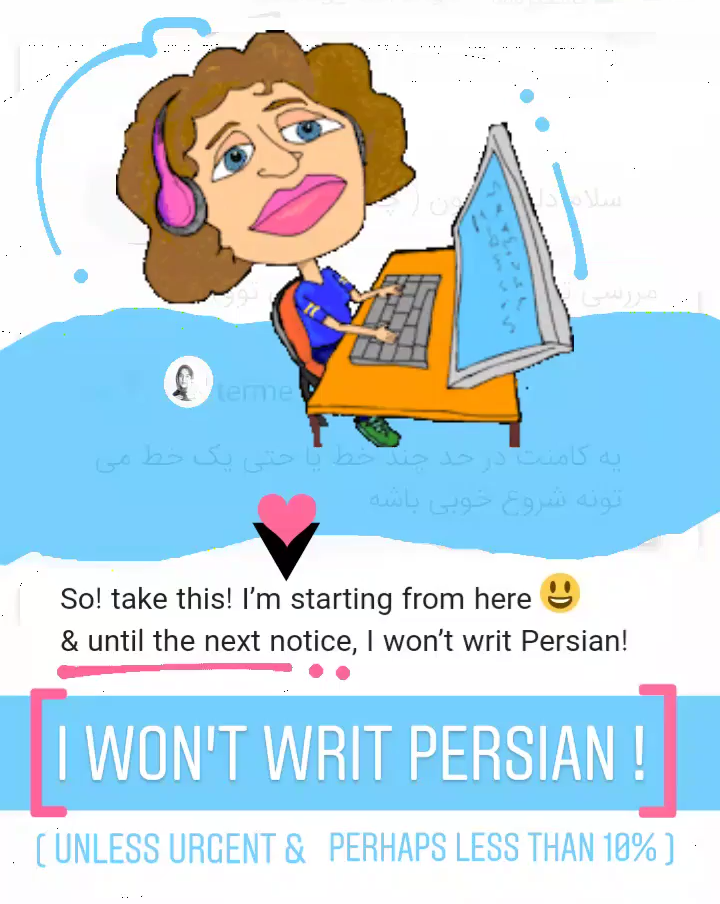 What do you think?
I like your idea. Just do it
Sorry, I edited your title. This is the first lesson for you.
Practice Make Perfect…Be Sure!



I love my first lesson & Very very thank you for your patronage، dear parvin

Yeeees



How beautiful did you write​:ok_hand:

My pleasure !




If you let me, I'll tell you my opinion too.
You used the word "patronage" in your sentence
I never heard this word (my level is intermediate, I think)
then, refer to LDOCE

I think we should use following words instead of it
For example: support
If I am wrong, Please inform me/let me know…Thanks a lot.
of coruse!
Why not? I will be really happy!

That's right! I heared "patron" in the story of george & the dragon! Remember the story of george's bravery that is known as patron saint of many countries! … I just wanted to use it
Why? Because it's not common؟
O yeeees!

i didn't remember this!

Thanx a loooooot

This is good that u wont to speak persian but ppl here like to speak farsi … i think this is better to speak english no matter what …im bad in english but i must put effort and do it … it doesn't wrong that just we write in one sentece .after a time we can write more sentence just we mus force ourself.pls just talk and write in english …for exampl tdy i increce my time in zabanshenas to force my self to do more activity .i really like ppl here are hadrworking ppl .im not good to create a good habit but since i 've came here i realy want to be someone like u
Merrrrci dear zaara



How good and right you said!
PPl don't like reading & speaking in english, as i didn't liked this Until yesterday!
We can't joke together, sing poem & use daily proverbs in english!
It soooo hard! But as you say :
We must put effort and do it & after a time we can write more & more & more!
U are good: ))
We can create good hubits together!
Do you mean that you are ready to do this challenge?

Yes my dear why not … if we write in english we will go and find the words that we want to say .it helps us to memorize new words and at the same time our writting skills improve… i suggest this app to my teacher and she likes that im here and talkin english
In the future i will send voice but for now just writting
Hoooora!




Viiiiva zaara!
You can!
We can!
Bravo! Thank you for your support!
Hoping to hear your voice in future!




…
Tnx dear … i told u about a book(عادت های اتمی)the writer said the goal is not importnat but the proces of get the goal is important .it means when u get ur goal u r happy but after that itbecomenormaly… we must enjoy our english and find the best way that become a habit … we can …i don't know u understand me or no😊
Woooow!

Truly that's it!
100% ! I understood you very well because you explained very clearly for me!

We can do it …just we have to try more
خب!
اینم اطلاعِ ثانوی !




فعلا به دلایلی که پیش بینیشون کرده بودم، پارسی را پاس می دارم تا اطلاع ثالثی

:)))